The federal and provincial governments, and community organizations are working together to help arriving Ukrainians fleeing the war feel welcomed and accepted, and to ensure that they have access to the services they need to settle in Canada.
NATIONAL
Immigration, Refugees and Citizenship Canada (IRCC) has introduced a Canada-Ukraine authorization for emergency travel (CUAET) allowing Ukrainians and their family members free, extended temporary status and flexibility to work, study and stay in Canada for up to three years. Settlement program services, which are typically only available to permanent residents, will soon be extended until March 31, 2023, for temporary residents in Canada under the CUAET. Read Canada's measures for vulnerable Ukrainians to learn more.
Operation Ukrainian Safe Haven
Operation Ukrainian Safe Haven is a national coordination initiative to bridge communications and resources with key stakeholders involved with supporting Ukrainians coming to Canada. A National Secretariat was established under CISSA-ACSEI to focus on post arrival planning phase for Displaced Ukrainians coming to Canada. This includes national communication objectives, including referrals for housing offers, donations, volunteers, jobs, and other key orientation resources and communications from provinces and territories.
CISSA-ACSEI has created a Voluntary Pre-Arrival to Canada Notification Form (NAT), allowing service providers helping Ukrainians to be proactive in many ways and to get a better understanding of the support needed for the arriving Ukrainians.
Canadian Red Cross
The Canadian Red Cross will be available at select Canadian airports to welcome, assist and register new arrivals. They will help with translation and interpretation needs and provide information to access government and community services to help meet needs of the new arrivals from Ukraine.
Ukrainian Canadian Congress
The Ukrainian Canadian Congress has organized community booths to meet and greet the Ukrainians coming through as temporary residents.
ONTARIO
Ukrainians coming to Ontario can get settlement and orientation services to help get settled in the province. OCASI has created a Supporting Displaced Ukrainians webpage, consolidating all the settlement information and resources.
Temporary housing
For information about temporary or emergency housing, contact:
Learn more about emergency and short-term housing options.
Emergency income supports
Ukrainians in Ontario under the Canada-Ukraine authorization for emergency travel are eligible to apply for Emergency Assistance which provides temporary financial support for basic needs and shelter in crisis situations.
If you do not have enough money for things like food, medications and housing, you may qualify for Emergency Assistance.
If you have a Canadian social insurance number (SIN), apply online
If you do not have a social insurance number, contact your local Ontario Works office
Health care
Employment support
If you need help finding employment in Ontario, or if you are an employer interested in hiring a Ukrainian newcomer, call 1-888-562-4769 to be referred to an agency that can help you.
Legal assistance
GREATER TORONTO AND HAMILTON AREA
GTHA UKRAINE CRISIS RESPONSE
211 Central has compiled resources available in the Greater Toronto and Hamilton Area (GTHA) for supporting displaced Ukrainians. It provides information on services such as housing, education, employment, child care, mental health, etc. available in Toronto, Peel, York, Durham, Halton and Hamilton regions.
TORONTO AREA HELPS
The GTHA municipalities have come together to launch a website called torontoareahelps.ca to promote both municipal and social services available for displaced Ukrainians across the GTHA. The website was created to help Ukrainian arrivals or their hosts to get better access to the services and supports available across the GTHA. The site also provides connection to a range of government services (municipal, provincial and federal).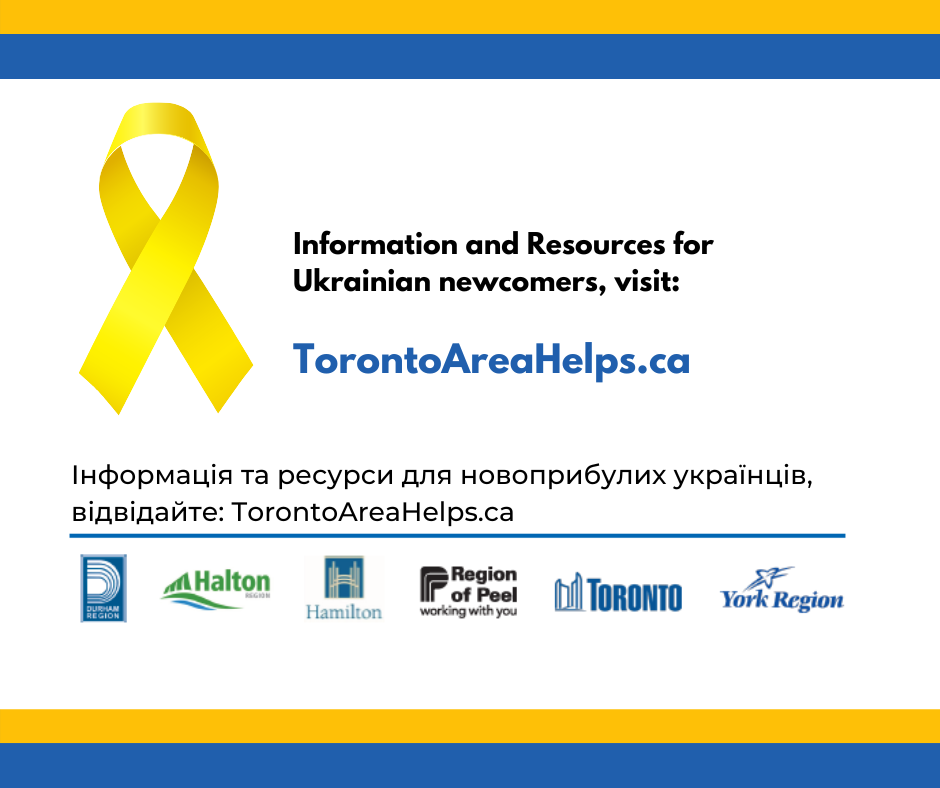 PEEL
OTHER WAYS TO HELP 
If you are a service provider:
The Region of Peel has compiled support on housing, jobs, education, health, etc. Please visit Support Ukraine page for details.
A resettlement support working group has been convening in Peel region to focus on coordination of supports related to government assisted refugees, including Afghans, as well as displaced persons arriving on temporary permits, such as Ukrainians. The working group is co-chaired by the Region of Peel and Peel Newcomer Strategy Group. For more information, please contact: Shriya Seksaria at [email protected].
If you are a resident:
Financial Support: A national umbrella settlement agency, CISSA-ACSEI, is accepting and redistributing financial donations on behalf of service provider organizations across Canada who are supporting displaced Ukrainians. Visit Operation Ukrainian Safe Haven to learn how you can make donations.
Clothing donation: The Ukrainian Canadian Congress' Toronto Branch has opened a storefront in Etobicoke for newcomers from Ukraine to pick up items needed to start a new life in Canada. The storefront initiative, called Ukrainian Canadian Parachute, is located at 160 North Queen Street. Visit dopomoha.ca for more information.
Host program & housing assistance: COSTI is organizing accommodation for Ukrainian newcomers and essential orientation and referral services in the Greater Toronto Area. If you are interested in providing volunteer housing assistance, please email COSTI at [email protected]. If you are outside the GTA, visit the Ontario Council of Agencies Serving Immigrants (OCASI) website.
Employment: If you are an employer and want to support displaced Ukrainians in Canada, register your job offer through the Canada Job Bank. Peel Halton Workforce Development Group is also working with local agencies to share employment offers for newcomers.
Flyer Miles: Canadians can donate Aeroplan points to the Ukraine2Canada Travel Fund through Air Canada or Miles4Migrants.